Skip the Drugs; Go to a Chiropractor for Migraines
Skip the Drugs; Go to a Chiropractor for Migraines
Written By Taschler Spine & Rehab on May 17, 2021
---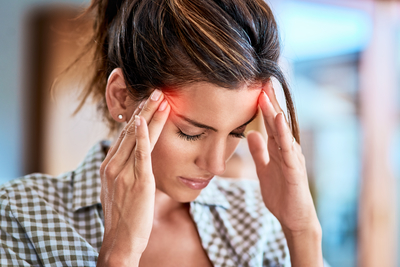 Migraine affects 39 million people in the United States alone and while there are various coping methods, there is no known cure. One year-long study showed that chiropractic care helped decrease both migraine and headache intensity, along with a reduction in headache frequency.
We at Taschler Spine & Rehab in Fairfax want to help you develop a routine that can eliminate or significantly reduce your migraines.
How Chiropractic Care Helps With Migraines and Headaches
If you often suffer from headaches and/or migraines, you unwittingly have a routine that creates a biological environment in your body that no pill can fix. Pills might offer some temporary relief, but they do not address the root of the problem.
Migraines do not happen because you are not taking pain pills; they are happening for biological reasons, most often tension.
A 2017 article, published in the European Journal of Neurology, detailed a 17-month randomized study that included 104 patients who suffered from at least one migraine attack per month. The duration of migraines were significantly more reduced in the chiropractic than in the control pharmaceutical group toward the end of the follow-up period of the study.
A meta-analysis of six studies following 677 migraine patients found that spinal manipulation reduced migraine days and pain/intensity. They concluded: "Results from this preliminary meta-analysis suggest that spinal manipulation may reduce migraine days and pain/intensity."
Making regular chiropractic care part of your routine is arguably the best way to protect yourself from headache/migraine-inducing tension. We have adjustments that specifically target said tension, allowing your body to calm inflammation, increase blood flow, and loosen your muscles.
The end goal is for chiropractic care to ease the stiffness out of your joints, including in your neck and spine, improve spinal health and nerve function so you do not have any neural misfiring, and empower your body to better manage headache and migraine pain.
Drug-Free Migraine Care in Fairfax
After suffering for many years with headaches and migraines, Dr. Taschlers' neurologist referred her to a chiropractor. Chiropractic care gave her so much relief that she decided to dedicate her life to helping others. After extensive formal education and trial and error Dr. Taschler has developed a comprehensive headache treatment protocol that will get you results.
Dr. Taschler takes a consultative approach with imaging and MRIs (as needed), and will diagnose your triggers such as diet, sleep patterns and will determine a drug free way of managing migraines with both lifestyle changes and chiropractic adjustments.
Dr. Taschler is known as the Headache Doctor with 24 years of experience in treating headaches.
Have questions or are ready to schedule an appointment? Call Taschler Spine & Rehab at (703) 293-2939 or go online and fill out a contact form. We are happy to help you get started with a healthier life.
Hear It from a Satisfied Patient
"Dr. Taschler and her staff are attentive and friendly. I have struggled with migraines for years. With her expertise, I have been able to manage them better. Her methodical and personal approach has made a world of difference. Her team is always a pleasure to work with because they are professional and kind. Strongly recommend."
-Alexandra Carnes, Google Reviewer

Posted In: Chiropractic Headache Treatment Migraine Treatment