Do You Need Chiropractic Car Accident Treatment?
Do You Need Chiropractic Car Accident Treatment?
Written By Taschler Spine & Rehab on February 4, 2021
---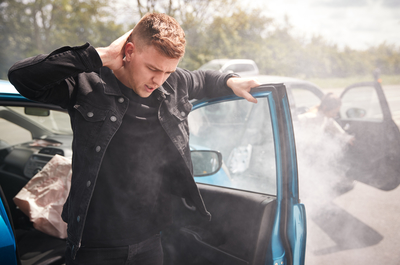 Whether the damage is severe or minor, car accidents are often unforgettable experiences. People are often shaken, fearful, and experience a foggy memory leaving the scene of an accident. In fact, many victims don't realize they're injured for days after the accident occurs.
With over 2 million car accidents resulting in permanent injuries each year, it's essential to seek a non-invasive treatment option to help you find pain relief and avoid long-term injuries after a car accident.
Signs You Need Car Accident Treatment for Injuries
The most typical injury after an accident is whiplash, which happens when the neck moves back and forth quickly. Whiplash damages your muscles, spine, nerves, ligaments, and tissues — often resulting in pain when not treated.
Beyond whiplash, you'll also want to be cognizant if you experience any of the following symptoms after a car accident:
Neck, shoulder, or back pain or stiffness
Abdominal swelling
Numbness
Changes in personality or physical performance
Dizziness or confusion
Sensitivity to light
Mood swings
Nausea
Car accident injuries are serious and need immediate treatment if you begin feeling any symptoms. With the right chiropractic diagnosis, you can begin finding injury relief within a few days depending on your situation.
Chiropractic Car Accident Treatment Options
Instead of masking your pain with over-the-counter medication, chiropractic provides a natural and non-surgical treatment for car accident injuries. After the car accident, the doctor will conduct a full examination to understand the root cause of your pain and develop a personalized treatment plan that helps you regain full functionality.
Your doctor may recommend the following treatment methods:
Spinal manipulation
Physical therapy
Massage therapy
Spinal decompression
Exercise or nutritional guidance
Ergonomics
By focusing on a holistic approach, your doctor will focus on healing your body's systems so you can reach optimal wellness.
Find Natural Car Accident Treatment in Fairfax
If you've recently been in a car accident, it's essential to visit your Fairfax chiropractor to diagnose any pain and ensure you recover quickly. The team at Taschler Spine & Rehab will treat any pain you're experiencing and improve your musculoskeletal system to prevent future injuries from occurring.
Don't wait for car accident injury treatment. Schedule an appointment with Taschler Spine & Rehab today.

Posted In: Chiropractic Auto Injury Natural Pain Relief Whiplash Treatment