Meet Dr. Jennifer Taschler
Chiropractic Services
Chiropractic is a health care profession that focuses on diagnosis, treatment, and prevention of mechanical disorders of the musculoskeletal system, with special emphasis on the spine and upper and lower extremities. These disorders affect general health via the nervous system. Chiropractic treatment emphasizes manual therapy including spinal manipulation and other joint and soft tissue manipulation, and includes exercises and health and lifestyle counseling. Most Chiropractic Services are covered by Health Insurance. To have your benefits checked for you, please contact Taschler Spine & Rehab at (703) 293-2939.
Dr. Jennifer L. Taschler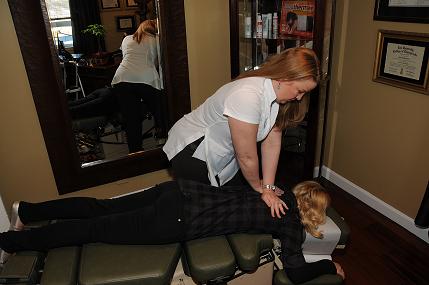 Initial Exam: $135
Case History, Physical Examination inclusive of Orthopaedic, Neurological, & Gait Examination, & Chiropractic Evaluation.


Spinal Adjustments: $65
Therapies: $35 Per Therapy
Axial Decompression for Disc Issues, Electrical Muscle Stimulation, Spinal Traction, Therapeutic Exercises, and Ultrasound.




Chiropractic Supplies:
Therapeutic Cervical Pillow $130
Cervical & Lumbar Ice Packs $25
Biofreeze Tube or Roll-On $15
Vitamins Priced Individually
Custom Made Orthotics Priced Individually